£50 coin
---
The £50 coin is rare in British currency, and technically speaking has never actually been in circulation.
With common circulating coins generally going no higher than £2, it's of little surprise that a £50 coin is not something you'll find in everyday change. There are however three variations of £50 coins that have been struck, even if they remain rare and not for normal circulation.
.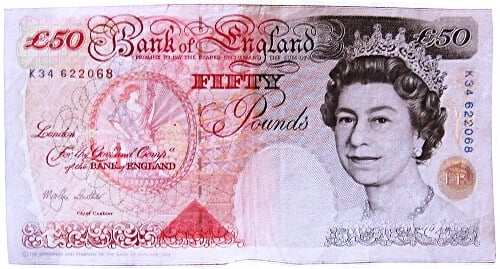 The £50 banknote, first issued in 2011 and circulated in place of a coin.
You certainly will not pay for something in a shop with a fifty pound coin. These are intended to be either collectable items, or as a bullion coin for investment. All are denominated with a face value of fifty pounds, but their true worth is usually greater than £50.
.
---
Gold fifty pound coins
.
The first, and most numerous fifty pound coin, is the half-ounce gold Britannia coin. The gold Britannia has been in circulation since 1987, with half-ounce variants also being released each year for the same period of time.
.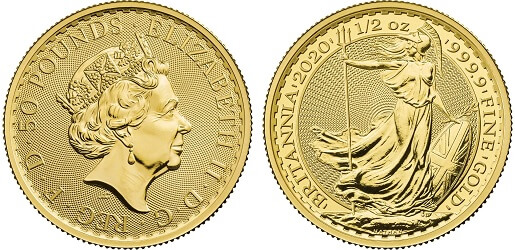 The half-ounce gold Britannia coin is classed as a £50 coin.
The 1oz Britannia has a face value of £100 and, as such, the 1/2oz is considered a £50 coin. The obverse of all of these coins has the value of £50 stamped on it. This is only a technical value however, and at the time of writing half an ounce of gold would cost around £650, meaning the half-ounce Britannia's true value is far above that of a £50 coin.
.
---
50 pound coin
.
The other two variations of the 50 pound coin were struck from silver. 100,000 silver £50 Britannia coins were issued in 2015. They were minted to celebrate Queen Elizabeth II becoming the longest-serving monarch in British history.
Unlike most bullion coins released, its precious metal content is worth less than its face value. Weighing just under a troy ounce of .999 fine silver, a silver coin of this weight would be worth about £14 at the time of writing. This means that at £50, this 2015 silver coin has a face value over three times higher than its metal content. Despite this, these £50 coins - in good condition - are now trading for around £100.
Released the following year, the 2016 Shakespeare Histories silver £50 coin commemorated 400 years since the death of the Bard.
With a commemorative design, and a very limited mintage figure of just 15,000 coins, this Shakespeare coin is undeniably the rarer of the two silver £50 coins. Once again, the coin is one ounce of 999 fine silver, meaning its face value is higher than its metal content. Being both collectable, and limited in mintage numbers however, it can fetch above the £50 value stamped on it.
.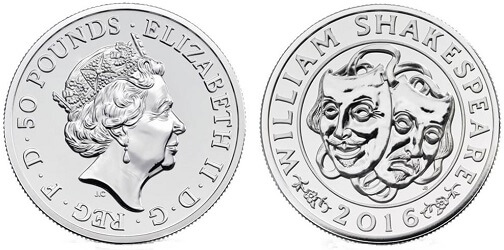 The 2016 Shakespeare coin was the last silver coin to officially be classed as a 50 pound coin.
Easily confused with the 2015 £50 Commemorative Silver Britannia, there is also a bullion silver Britannia of which was struck in 2015. This one ounce bullion coin however has a face value of £2 – the face value this time being several times lower than the metal value.
If a coin is classed as legal tender it enjoys significant tax benefits. For the silver £50 coins above, this means they are exempt from Capital Gains Tax. As well as CGT, the gold half-ounce Britannia coins are also VAT-free, making them very attractive to investors. Additionally, its small size and comparatively low unit price means that the half-ounce Britannia can make a good addition to an investment portfolio in terms of flexibility.
At BullionByPost we stock a wide range of half-ounce Britannia coins, of various years. If you would like to speak to the team about purchasing on of these gold £50 coins, call 0121 634 8060 or email [email protected] and one of the team will be happy to help.