Coin dealers near me
---
A coin dealer is someone that trades in collectible or numismatic coins; buying and selling rare or precious metal coins. They might be a small pawnbroker, antique dealer, or a specialised, professional coin and bullion dealer like BullionByPost. Thanks to BullionByPost's experience in trading gold through the post, customers no longer need to worry about finding a coin dealer near to them, instead any local post office will give you the chance to post coins to us.
Collecting rare, historic or gold coins does not have to be an expensive investment. Even a few coins, coin sets or small coin collection can provide a safe haven investment that adds diversity to your savings.
No matter how many coins you buy, it is important to use a reputable dealer. This ensures that you will only buy and sell at the best prices. You will also receive a professional, secure, and safe service.
It can be tempting to trade with a local coin dealer, or to buy and sell coins privately online through sites like eBay. These aren't guaranteed to be bad decisions, but BullionByPost offers a quick and easy online alternative route into the coin market. We also boast state of the art technology to test the gold value of coins and ensure they are authentic pieces.
Our website is full of useful information for coin collectors and gold investors. Plus, our friendly and knowledgeable customer service team is available to answer questions on any topic not covered by our website.
We are also conveniently located in the centre of Birmingham, should you wish to visit us. We are just a few minutes walk from Birmingham New Street train station, as well as many city centre bus stops. Our trade counter service is open Monday to Friday between 9:30am and 4:30pm.
.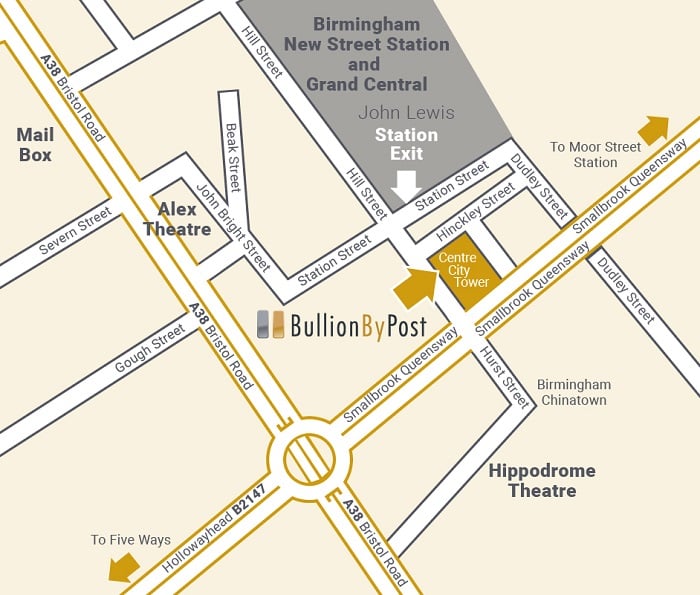 .
Coin and gold traders UK


.
Below are just some of the reasons why you should use BullionByPost as your coin and gold bullion dealer:
Both our customer services team and our vault team are experienced, knowledgeable professionals. Their expertise will help speed up your coin trading process.

Over 20,000 customers have left us positive reviews on the independent site eKomi. This gives you the peace of mind that BullionByPost is a gold trader that can and should be trusted.

Our gold and silver coins are priced on the live spot price or LBMA fix for large orders. This ensures our prices are as accurate as possible when you come to sell. Prices can be viewed via our live price charts. This transparency helps our customers get the very best deal.

All our gold is LBMA-approved, meaning you can be confident that it is of the quality and weight stated.
---
If you have any enquiries, our customer services team are happy to help. Email [email protected] or call 0121 634 8060. Read more about why you should deal with BullionByPost.