Commemorative coins
---
There is growing demand from collectors for commemorative coins, a demand that mints around the world are only too pleased to satisfy. Commemorative coins come in many forms; they range from bullion tokens that celebrate events, through to limited edition precious metal coins struck by national mints.
Commemorative coins can be put into three broad categories, with a crossover of each:
Common everyday currency – Such as the UK circulating 50p and £2 commemorative coins, usually made from base metals.
Non-circulating legal tender – Such as Crowns and 25p coins, made from both base and precious metals.
Tokens and souvenirs – Usually precious metals, and not legal tender.
.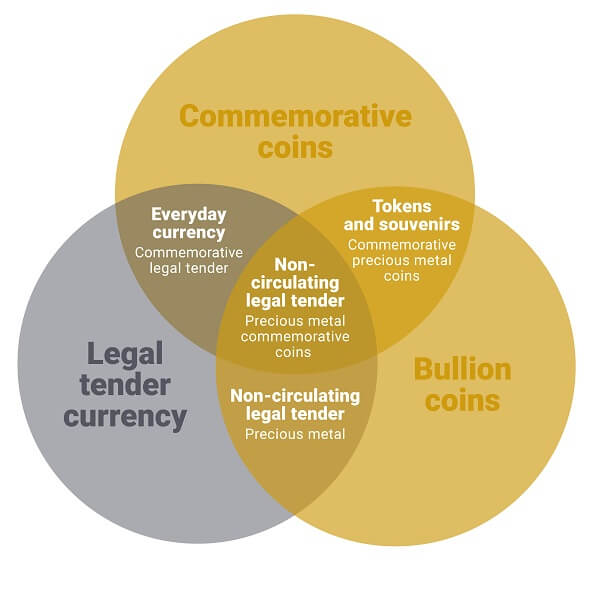 ---
Commemorative coins value
.
It is increasingly expected that national mints will mark major events with specially struck circulating coins. In the UK, 50p and £2 coins are usually used to mark such events in British history. The design of the £1 Coin is changed every year by the Royal Mint, but these are simply annual changes, and do not mark an event or anniversary.
Everyday commemorative, base metal, coins are often produced with low issue limits. Due to natural wastage and accumulation by collectors they can quickly turn from circulation currency to valuable collectors items.
Everyday currency coins minted to celebrate events are popular with the general public, and coin collectors alike. Rare examples can even be a good financial investment.
Mint errors in these, already scarce, common currency coins can raise their value even further. An example of this is an early design for a 50p coin marking the 2012 Olympic swimming event. The original design was changed to improve the visibility of the subject's face, but 600 of the original design were mistakenly circulated, and one later sold for an estimated £800.
.
---
Non-circulating legal tender and bullion coins
.
In addition to circulating commemorative coins, national mints can also strike limited edition, legal tender coins, made from precious metals. Many of these are already minted to extremely high standards, but some are also produced to proof quality finishes. The Royal Mint often sells these commemorative poof coins boxed with certificates of authenticity.
The precious metal content of these bullion coins far exceeds that of their face value. As legal tender they enjoy tax benefits over precious metal bars of the same weight. Plus, their commemorative design can further add to their value. This makes them attractive to both coin collectors or numismatics and financial investors.
.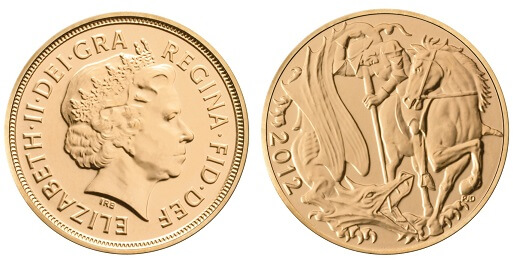 Specifically minted for Queen Elizabeth II's Diamond Jubilee, the 2012 Gold Sovereign is an excellent example of a commemorative bullion coin. It has a legal tender face value of £1.
Currently, the Jubilee Gold Sovereign above has a pure gold content over two hundred times its £1 face value. As a commemorative gold coin its value goes up to over 300 times its face value.
.
---
Tokens and souvenirs
.
Many small mints produce tokens celebrating popular events. Though not coins in terms of currency, they are often referred to as such. The Winston Churchill gold medal by A. Edward Jones Ltd of Birmingham is one such piece. Not produced by the Royal Mint, and without a value, it cannot be considered a coin.
These are often bought as mementos because of the event they mark. Besides valuing them on their pure metal content, it is difficult to assess their market price, and care should be taken when buying them to ensure the gold content is as stated.
.
---
Notable commemorative coins
.
The 1935, George V Silver Crown was the first commemorative Crown coin ever struck. It was issued to mark the Silver Jubilee of George V. Many traditionalists dislike its art deco reinterpretation of the iconic St. George and the Dragon UK coin design. It is therefore commonly known as the 'Rocking Horse' Crown.
Marking the death of the famous statesman, the 1965 Churchill Crown coin was very special. It was the first British coin to feature someone outside of the royal family - a very rare honour. It was also the first Crown coin to be issued since 1902 that didn't have a denomination value shown on it.
.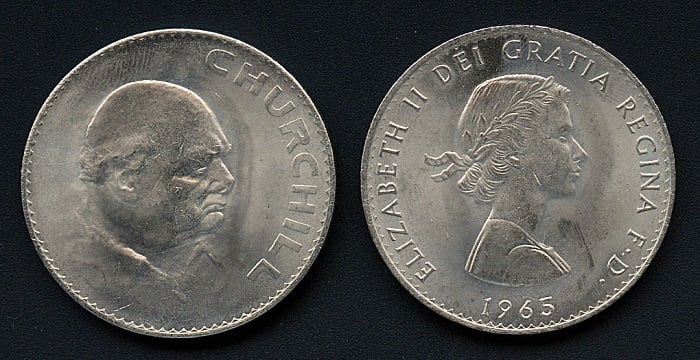 The 1965 Churchill crown. Image courtesy of Flickr.
In 1994, the Royal Mint issued a limited quantity of Gold Proof 50p pieces to celebrate the 50th Anniversary of the World War Two Normandy landings. It is of the older style Gold Proof 50p piece, containing more gold than its current issues. It is also larger at 30mm diameter.
.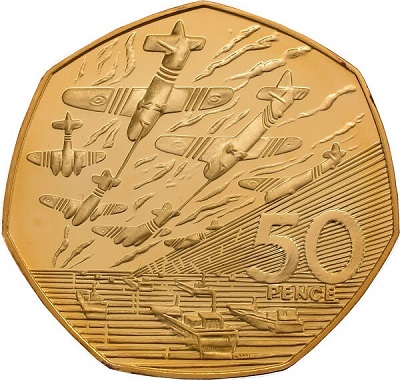 .
In the same year the Bank of England had its 200th anniversary commemorated by issuing a Gold Double Sovereign. Due to their status as British Legal tender they are Capital Gains Tax exempt, making them a good choice for British investors.
.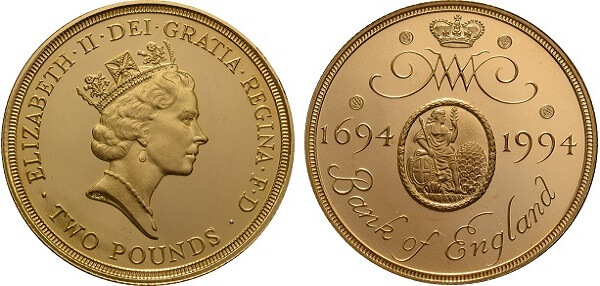 .
Current celebratory coins include the Sherlock Holmes 50p released in May 2019. The UK coin marks the 160th anniversary of the birth of Sir Arthur Conan Doyle, author and creator of the iconic sleuth. Commemorative coins are produced annually, and sometimes multiple coins are produced within the same year, giving collectors plenty of choice.