Ich Dien
---
Ich Dien is German for 'I serve', and is found on the heraldic badge of the Prince of Wales, most commonly referred to as the Prince of Wales' feathers. Ich Dien is usually located in a ribbon on either side of the crown and feathers that make up the badge. The phrase Ich Dien appears on a few British coins throughout history, and many sharp-eyed customers may also recognise it from the two pence coins they carry in their pockets.
.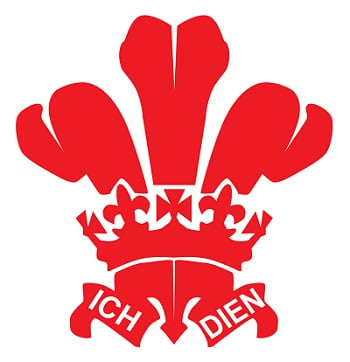 ---
Ich Dien meaning
.
Ich Dien translates literally as 'I serve' in German, and has been used by the Prince of Wales since the 14th Century and Edward the Black Prince. The true origin of the German phrase being used by English and Welsh royalty is lost to time. A longstanding legend claims that the Black Prince adopted the badge following a battle with King John of Bohemia, this has since been debunked however. Another suggestion is that Ich Dien was similar to the Welsh phrase 'Eich Dyn' meaning 'Your Man', but there is little evidence to support this either.
.
---
Ich Dien coin
.
Ich Dien most commonly appeared on the reverse of two pence coins minted between 1971 and 2008, meaning many circulating currency coins can still be found with this phrase.
A number of King Charles I coins have the Prince of Wales badge without having Ich Dien stamped on them. This was done after Charles I lost control of London, and no longer had access to the Royal Mint located there. Needing coins to pay his armies, Charles was forced to move coin production to smaller satellite mints such as the Aberystwyth Mint.
.


.
At BullionByPost we do have a very select number of Ich Dien coins made of gold or silver, shown in the image above. On the left is a gold proof two pence piece, with the traditional design of the circulating two pence coin matched. The Royal Mint regularly release gold variations of circulating currency coins, giving investors and collectors the chance to purchase the coins we know and use everyday but in proof quality gold.
The middle coin is a Charles I two pence coin minted by the Aberystwyth mint, as mentioned in the section above the image, the words Ich Dien however are absent. This was likely due to shortcomings of the manufacturing process; hammered coins produced less clear detail than later milled ones. Being an already small silver coin – with a badge that is only half the coin's surface area – striking two small words may have been beyond the skills and technology of the time.
The coin on the right is a commemorative 2008 Proof Crown celebrating the 60th birthday of Prince Charles. As the current Prince of Wales, the coin has the phrase Ich Dien stamped on the bottom of the reverse, and is an unusual British coin for having portraits on both the obverse and reverse.