New coins
---
New coins are issued every year by mints across the globe. In the United Kingdom, Her Majesty's Treasury is responsible for directing the Royal Mint to strike new coins. The quantities and denominations of new common currency coins to be released are determined by demand. In its calculations, the Treasury will also consider the existing number of coins in circulation.
The number of new coins that are issued varies greatly each year. With the growing use of electronic payment, and increasing discussions regarding a 'cashless society', the number of new circulation coins being issued is slowly declining. New currency coins are then released through cash centres, before going into circulation via banks and the post offices.
.
In addition to common currency, the Treasury will also sanction the Mint to strike commemorative, and bullion coins, struck for investors and collectors. Bullion and commemorative coins are sold through coin specialists, such as BullionByPost.
For investors the age of these coins is of little concern – a 2020 Sovereign is no different necessarily than a 2000 Sovereign – but for collectors a new coin each year is a new addition to a collection. Outside of these traditional coins, the Royal Mint will often issue new coins in their collectible series' such as the Queen's Beasts and Lunar coins.
.
---
New non-UK coins
.
Other countries follow broadly the same procedure as the UK. Most have their own national mints, which produce new coins as directed by their government treasuries or national banks.
As well as new common currency coins, most foreign mints also strike bullion and commemorative coins. The Sovereign and Britannia coins are the UK's leading bullion pieces. Popular foreign bullion coins are US Eagles, Canadian Maples, Australian Kangaroos and Austrian Philharmonics. At the top of the pile however is the South African Krugerrand, which is arguably the world's leading bullion coin.
.
---
New coins 2019 UK
.
In the UK, over the course of 2019, the Royal Mint released thirteen new common currency coins. These were eight new issues of existing coins -1p, 2p, 5p, 10p, 20p, 50p, £1 and £2 - plus five commemorative coins.
The commemorative coins were:
£5 - 200 years since the birth of Queen Victoria in 1819.

£2 - 260th anniversary of Wedgwood.

£2 - 75th anniversary of D-Day.

£2 - 350th anniversary since Samuel Pepys' last diary entry.

50p - 160th anniversary of Sir Arthur Conan Doyle's birth.
In addition to these, the Royal Mint also struck many new bullion and commemorative coins.
Besides their denomination, virtually all coins are inscribed with a year, but the denoted year is not necessarily the year in which they were struck. Bullion and commemorative coins are often released in advance of the year inscribed on them. For example – as seen below – the White Lion of Mortimer is stamped as 2020, despite being released in September 2019.
.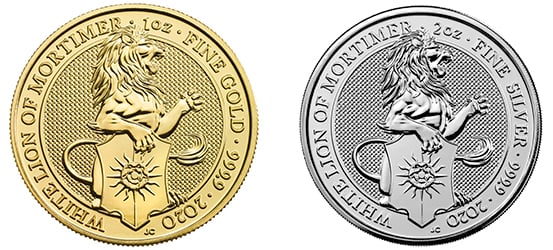 Despite the 2020 date this, 1oz Gold Coin White Lion of Mortimer was released in 2019.
At the time of writing, late 2019, the Royal Mint has already released many collectible 2020 coins. This is in addition to the normal releases of new Britannia and Sovereign coins (with various denominations).
These include:
.
New non-UK 2020 coins
Again, at the time of writing, Australia's Perth Mint has also issued:
As 2019 ends, and 2020 begins there will be more coins issued. View our 2020 gold coins, and 2020 silver coins categories to stay up to date.
.
---
New coins coming out
.
A Royal Proclamation, released in October 2019, announced the new coins to be issued for 2020. These will include a new £2 Agatha Christie, a £2 VE Day, a £2 Mayflower and a £5 George III commemorative coin. There will also be new 50p coins supporting the Great Britain teams competing at the Tokyo Olympic Games. A previously announced Brexit 50p coin has been cancelled, with the coins to be melted down and reissued at a later date.
When striking commemorative coins, the Royal Mint also usually releases limited edition bullion versions, so precious metal versions of these new issues can therefore also be expected.
.
BullionByPost is an authorised distributor for the Royal Mint and supplies many coins from internationally-renowned mints. We stock new bullion coins as and when they are released. All of these new coins come at competitive prices, with free fully-insured delivery.
For more information or for help ordering, call 0121 634 8060, or email [email protected] and one of the team will get back to you.