Rare £2 coins
---
The history of rare £2 coins can be confusing. In addition to common currency coins issued since 1998, there have also been numerous commemorative £2 coins which are also considered rare. This includes various celebratory £2 coin designs, plus collectible bullion coins.
All of these have a legal tender face value of two pounds, but the reality is that they are worth much more based on their gold value.
.
Double Sovereign


.
There is another coin often considered as £2: the gold Double Sovereign. The Sovereign coin has a legal tender value of £1, so it makes sense then that a Double Sovereign would be considered a £2 coin.
There are also other bullion coins that are attributed a £2 face value, and these include many proof and commemorative £2 coins. In another confusing element though, these other £2 coins are not Double Sovereigns. They are however, often referred to as Double Sovereigns, and vice versa.
All rare gold two pound coins are struck by the world famous Royal Mint, and enjoy tax benefits for UK investors. This makes them an excellent, trusted, and flexible investments. As the chart below shows, they can fall into a number of categories which sometimes overlap.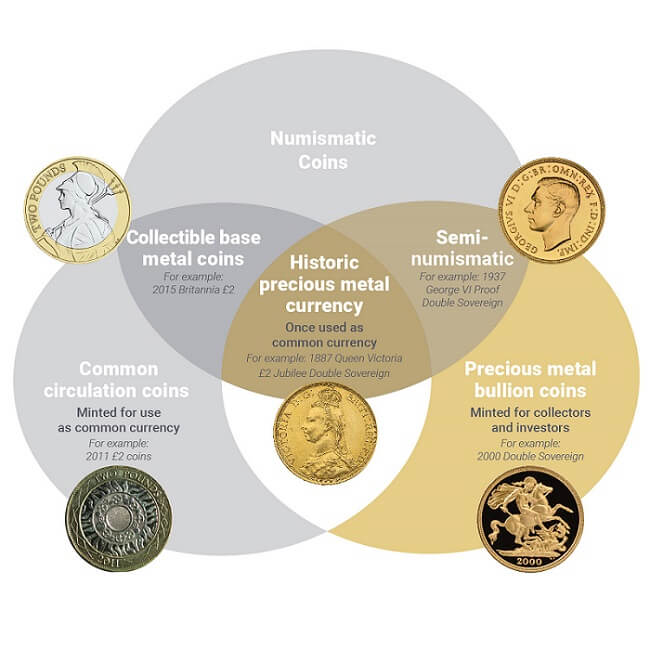 ---
Rare 2 pound coins
.
In recent times, the reverse side of the two pound and fifty pence coins have been used to mark major national events or anniversaries. Events such as royal births and weddings are most common, but others are occasionally recorded. The obverse generally continues the tradition of using the image of Queen Elizabeth II.
In 2014 it was estimated there were 417 million £2 coins in circulation, with 73 different designs. It is therefore not surprising that amongst all of these circulating coins there are some rare examples to be found. They may be rare because only a small number were initially minted, or due to errors during minting.
.
---
Commonwealth Games 2002 £2 coin
.
A series of two pound coins were minted to mark the 2002 Commonwealth Games. The coins were given a unique design for each of the home nations - England, Scotland, Wales and Northern Ireland.
All of these are now quite rare, but in particular there were only 485,500 of the Northern Ireland coins minted. This makes it the rarest UK common currency £2 coin on the scarcity index. The England and Scotland coins from the same series are second and third most scarce.
.
---
1887 Queen Victoria £2 Jubilee Double Sovereign
.
Today, common currency coins are only minted from base metals, but before the Second World War some circulation coins were minted from precious metals. The Queen Victoria 1887 £2 Jubilee Double Sovereign was the first gold £2 Double Sovereign. Its age, history and metal content all combine to make it a rare and valuable £2 coin.
.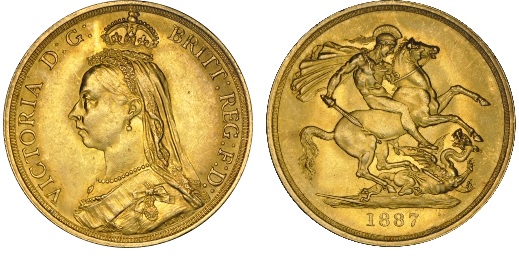 The 1887 Victorian Double Sovereign, one of the first £2 coins in the UK.
---
Bullion £2 coins
.
In addition to common currency £2 coins, the Royal Mint also strikes limited editions with the same designs in precious metals. There are also other limited-edition bullion coins denominated at £2, struck purely for investors and coin collectors. As limited editions they are, by their very nature, rare.
Precious metal bullion coins that also have numismatic value are termed semi-numismatic. The value of a semi-numismatic £2 coin will generally be above that of the normal bullion coin, but how much higher it could fetch will depend upon its age, collectability and condition.
The other bullion coin classed as £2 is the silver Britannia. The silver Britannia was first issued in 1987, and thanks to its £2 legal tender classification means it is CGT-exempt, making it one of the most popular silver products for investors.
.
---
Gold Proof Olympic Handover Ceremony £2 coin
.
The 2012 gold proof £2 Olympic Handover Ceremony coin followed the same design as the common currency coin, both celebrating the London Rio Olympic Handover Ceremony. It is a typical example of a bullion coin that follows the common currency design. It was struck from 22-carat (916.7 fineness) gold and contains over an ounce of pure gold.
.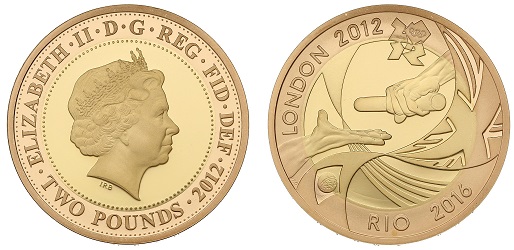 The 2012 Olympic Handover £2 coin.
---
The 1937 George VI Proof Double Sovereign
.
The 1937 George VI proof Double Sovereign is a striking example of a rare £2 bullion coin. It has a very low mintage of only 5,500 - as part of coronation coin sets. This was the only year George VI sovereigns were struck until after World War II, making them especially rare.
.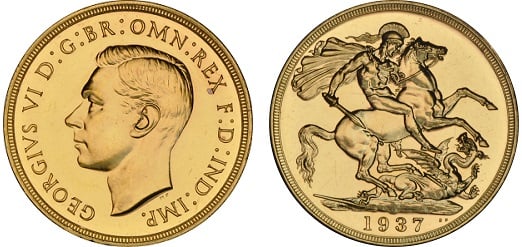 Rare Double sovereign from the reign of George VI with a mintage of only 5,500.
---
Rare £2 coins value
.
A rare £2 coin can be more valuable than its initial tender value, but buying a rare gold £2 coin is a strong way to ensure your coin retains, or increases in value. Whether from pure metal content, low mintages, or numismatic value, these coins offer a great way to protect your wealth - and collect a rare coin at the same time.