Biggest gold mine in the world
---
The Grasberg mine, located in Indonesia, is the biggest gold mine in the world. It is also the second largest copper mine in the world; the ore mined at Grasberg produces relatively high grades of both metals.
Copper is the primary commodity, with 2.8 billion tonnes of provable copper deposits still available, but another major precious metal mined at Grasberg is silver – with 2.9 million ounces of silver sold in 2016.
.


Panorama of the Grasberg open-pit mine. Image courtesy of Richard Jones under Creative Commons.
As the world's largest gold mine, the Grasberg facility employs a staggering 18,000 workers. In order to support the operations and workforce, Grasberg has its own airport, seaport, 119 km of access roads, a tramway, a hospital, employee housing, and schools, along with a number of other support facilities.
The defining feature of the Grasberg facility is the open-pit mine, with an incredible mile-wide crater. For years, millions of tonnes of ore were dug out from this pit but it has now largely been exhausted. Production is currently centred around underground mining, and the facility has four concentrators to process the huge amount of ore mined every day.
In particular, the Grasberg Block Cave – a recent addition – is expected to see significant growth over next five years, with production reaching an estimated 130,000 metric tons of ore per day.
Reserves at Grasberg are estimated to be worth $40 billion and, in 2016 alone, an incredible 1,061,000 ounces of gold was produced.
.
---
Where is the biggest gold mine in the world?
.
Grasberg is located in Papua, the most eastern province of Indonesia, near Puncak Jaya (the highest mountain in Papua). The area is found in the centre of a collision of the Indo-Australian and Pacific tectonic plates. The confluence of the plate activity gives the area its mineral-rich deposits which help make it the biggest gold mine in the world.
.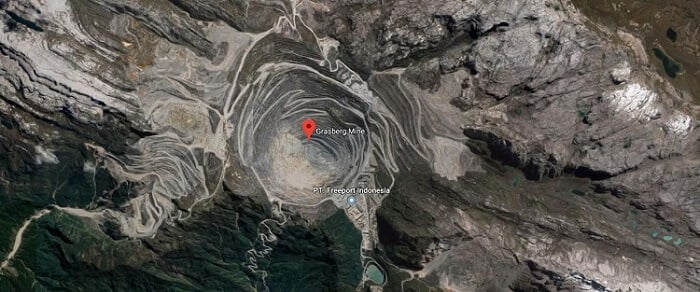 Satellite image of Grasberg mine with the open-pit clearly visible. Image courtesy of Google Maps.
As of 2018, the majority stake in the mine is owned by the Indonesian government, following a long period of disputed claims regarding ownership. The site is operated under licence by the American firm Freeport-McMoRan.
View the top ten gold producing countries, or the top ten countries by gold reserves.