Gold markings on jewelry
---
Jewelry is the American spelling of jewellery. Gold markings on jewelry are intended to help give an independent, accurate indication of how much gold an item contains. This is done because pure gold would be too soft for jewelry, and a gold alloy is used for the sake of practicality.
.
---
US jewelry marking
.
In the US, the proportion of gold is measured in karat units. This is identical to the British carat, which uses proportions of twenty-four parts. In the US, carat is exclusively a measurement of gemstone weight, not gold.
Since 1966 it has been compulsory in the United States to mark gold jewelry with a maker's name. Prior to the early 18th century, gold jewelry marking was uncommon in the US. This was due to difficulties of enforcement in the newly-established nation. In addition to this, much of the new world's gold items were imported from Europe, and were therefore already marked.
As US gold jewelry production developed, jewelers began to stamp their products with their name or initials and a state symbol. In the spirit of free enterprise, many Americans opposed any further government regulation of gold markings, instead preferring to place legal responsibility for gold purity on their jewelers.
Even today, US jewelry is sold on the basis of 'God helps those who help themselves'. It is accepted that gold content may be less than described in cheap goods at the lower end of the market.
.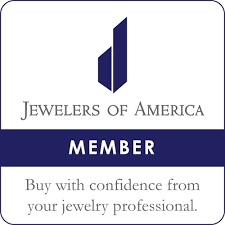 Jewelers of America is the foremost independent US assay office. Members may exhibit this sign as proof of gold purity.
However, a system of independent, non-compulsory, assay offices does exist in the US. The foremost of which is 'Jewelers of America.' As proof of gold purity, members of Jewelers of America can mark their jewelry with the letter J or JA.
The Federal Trade Commission further recommends that jewelry should carry a purity mark. These marks should show 24k, 18k, 14k or a minimum of 10k.
.
---
Gold markings on jewellery outside of the US
.
In contrast, in the 'old world' there had been a legal requirement to mark gold and silver since medieval times.
The first markings used to prove the precious metal content are thought to have been used in France, with England following in 1300.
At this time, Edward I instructed 'the Guardians of the Craft' to check and mark gold and silver. This was to ensure silver was at least 92.5% pure silver, or Sterling Silver. The standard for gold was 19.2 carat, which is known as the 'touch of Paris'.
The work of the Guardians was later transferred to the Goldsmiths' Company. Items were then marked in the Goldsmiths' Hall, which lead to the term 'hallmarking'. Eventually a system of hallmarking pieces of jewellery was established across the UK. This was done by regional assay offices which marked all gold and silver items.
At one time, including Dublin, there were eleven British assay offices. Today there are only four: Birmingham, Edinburgh, London and Sheffield.
.
---
Gold ring markings
.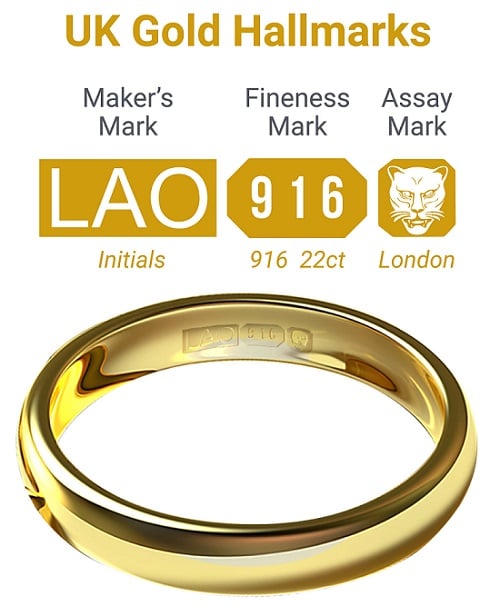 .
There were four traditional British standard marks compulsory on jewellery - such as gold rings - weighing over one gram. They were the maker or importer's mark, assay office, proportion of precious metal and a date letter. Today, following the 1973 Hallmarking Act, the date may be omitted from common control marks.
In 1972 the UK signed the International Convention on Hallmarks. As a result, in addition to British traditional marks, international hallmarks are also accepted in the UK and other member countries.
.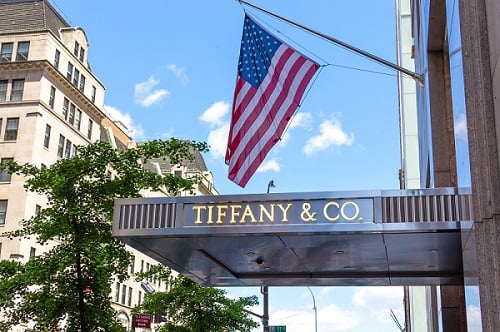 Tiffany and Co. Fifth Avenue New York.
Gold markings on jewelry in the US however only require the maker's mark. Despite this, high-grade items may also show the mark of an independent assay office, US state, and the date. High-class American jewelers, such as Tiffany and Co., even mark their name in full on pieces of jewelry.
BullionByPost buy scrap gold jewelry at competitive rates. Visit our sell page to get a quote, or call the team on 0121 634 8060 who will be happy to assist.