Gold traders
---
A gold trader is someone that deals in gold; be it selling, buying, or both. They might be a small pawnbroker, or a specialised, professional bullion dealer like BullionByPost.
When buying or selling gold, it's important to use a reputable gold trader. This ensures that you not only get the best price for your gold, but that you receive a professional, safe service.
It can be tempting to use a trader that's local to you, or to buy and sell privately online through sites like eBay. While this isn't guaranteed to be a bad decision, choosing a reputable gold trader will guarantee that you are dealing with an industry expert who recognises the true value of the gold in question.
.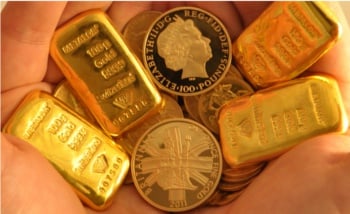 .
---
Gold traders UK
.
BullionByPost are the UK's number one online gold trader. We buy and sell gold bullion, as well as other precious metals, through our website. We also have a trade counter for anyone wishing to buy or sell gold in person.
Below are just some of the reasons why you should use BullionByPost as your gold trader:
We use the live spot price (or LBMA fix for large orders) to ensure that our prices are as accurate as possible when you come to sell. These can be viewed via our live price charts. This transparency helps our customers get the best deal.
All our gold is LBMA-approved, meaning you can be confident that it is of the quality and weight stated.

Both our customer services team and our vault team are experienced, knowledgeable professionals. Their expertise helps speed up our gold trading process.

Over 20,000 customers have left us positive reviews on the independent site eKomi, giving you the peace of mind that BullionByPost is a gold trader that can and should be trusted.
.
If you have any enquiries, our customer services team are happy to help. Email [email protected] or call 0121 634 8060. For a more detailed look at why you should deal with BullionByPost, click here.