Rare British coins
---
British bullion coins are recognised internationally, and make a popular choice for investors in precious metals both domestically and across the globe. Limited coins such as the gold and silver Britannia and the Sovereign make excellent, trusted and flexible investments - as both rare coins produced by the world famous Royal Mint, while also enjoying tax benefits for UK investors.
.
---
Antique British coins
.
For investors in bullion, the value of a gold or silver coin is based purely on its precious metal content and
other factors are rarely taken into account, however, not every investor is solely interested in a coin
for these reasons. Numismatists, or coin collectors, may be attracted to a coin for any number of reasons,
and the rarity of a certain coin - or type of coin - will usually mean huge demand from collectors, pushing
its price even higher. The old age and damage that occurred to these coins means very few exist today, making
them incredibly rare. Collectors will therefore tend to pay large premiums for particularly uncommon coins.
.
---
Modern rare coins

.
Coins such as limited issue gold UK currency coins - the change we use every day, but issued in 22 carat gold - will often cost much more than the value of their fine gold content due to their limited availability and appeal as collector's items. Click here to see our range of 22-carat gold UK currency coins.
Although many coin collectors do so purely out of the pleasure they take from their hobby, there are many who also believe that buying particularly sought-after or rare coins is an investment in an asset whose value could increase as they become less obtainable throughout time. Limited coin sets can see their value soar if the coin or theme becomes popular, but it should be noted that sentiment is subjective and there are no guarantees on a coin's appeal.
.
---
The most expensive British coin of all time
Certain bullion coins attract interest from both camps and are known as 'semi-numismatic' coins. These are appealing investments because they have an intrinsic value rooted in their gold or silver content but can also be sold for much higher fees if they are particularly rare or in excellent condition. The gold Sovereign is an excellent example of a British coin that benefits both from its status as a 22ct gold bullion coin and also as an attractive collector's item.
Certain Sovereigns tend to sell for much higher amounts amongst collectors of rare British coins. In 2014 a Sovereign became the most expensive British coin of all time when a collector paid more than £500,000 for a proof coin featuring the head of King Edward VIII.
Edward VIII's famously short reign saw a minuscule production of proof Sovereigns ahead of his abdication in 1936, even before his official coronation. A Sovereign featuring Edward's portrait was never produced on a large scale, with only six ever made to show the king, and are therefore sold at astronomical premiums. Edward was not at all shy from controversy in his short reign, and was the first monarch in 300 years to face the same way as their predecessor in their portrait after insisting on facing left like his father. It is not surprising, then, that the record for the most expensive Sovereign ever sold was set by a collector paying £516,000 for the privilege of owning one of the rarest British coins ever minted.
In the same auction, a proof Sovereign featuring Queen
Elizabeth II's 'Young Head' portrait from the year of her coronation in 1953 sold for nearly £400,000.
Regular production of Sovereigns after WW2 did not resume until 4 years into the reign of Queen Elizabeth II, but a very limited amount of proof Sovereigns and Half Sovereigns were struck to celebrate the Queen's coronation in 1953. These coins were never officially issued, making them extremely difficult to come across. Generally speaking, Sovereigns featuring Elizabeth II's Young Head portrait are not particularly rare as, apart from 1960 and 1961 when none were issued, uncirculated bullion Sovereigns were produced in rather high numbers between 1957 and 1968.
While these are, of course, extreme examples, there are plenty of Sovereign designs that have become more scarce throughout time and are therefore worth more to collectors nowadays. As the oldest coins from the reign of Queen Victoria, Sovereigns featuring the Young Head design on the obverse and the Shield on the reverse side will cost much more than a 2016 Sovereign, for example.
Click here to see our range of gold Sovereigns.
.
---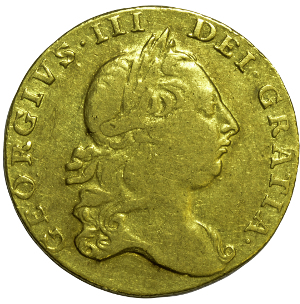 Old British coins
Aside from certain Sovereigns, old British coins that are no longer produced are also highly valued collector's items. Coins such as the gold Guinea are an excellent example of a rare British coin that attracts interest as both an investment in physical gold bullion and as a rare and fascinating collector's item. The Guinea was a 22 carat gold coin with a face value of around 21 shillings- roughly the equivalent of £1.05 in today's money. Of course, with a fine gold content of around 7.6g, its material value is much higher than that. The last Guinea ever struck was in 1813, more than two centuries ago and so it is unsurprising that collectors will pay far more than the value of 7.6g of gold for the privilege of owning one of these increasingly rare coins.